Now you have got your dog a suitable kennel or a dog run, what is your dog doing when it is not exercising? I browsed through quite a bit dog beds with all sorts of design and style and now I am sharing bits of information with you.
You will find countless of different styles even you finally made your mind on a certain type of bedding for your dog, and I do agree most of the time, it is really depending on your personal preference.
A nice bed would be necessary, it helps your dog to keep warm, have a most comfortable place to be when they are feeling to take a rest or a nap.
Generally, small and medium dog spend more time on their beds much more often than big dogs, as big dogs could easily find it cosy enough sleeping on your rugs and carpet haha.
For me the most important feature of a dog bed would probably be the material and how easy cleaning it is and if you are choosing a bed for your dog at the moment, you may want to consider below:
Rather choose a bigger size – just like you, your dog have its own sleep posture preference, sleep on the back, on the belly or stretch itself comfortably with complete relaxation. So choose a bed size bigger rather than just about the size of your dog would be the most suitable.
Dish-shape over flat – Just because dogs tends to curl up as their comfortable sleeping posture no matter their size. And raised sides enhance their sense of security.
Choose material depending on where their favourite spot is – if their favourite spot is at outdoor or they are not allowed to be inside for any reason, you would want your dog bed made with waterproof material rather than fabric.
Believe it or not, your dog would love anything that acts like a pillow, for its head to rest on. Choosing these pet beds with raised edges would make them happy, they just love it!
Washable and easy-cleaning – This factor matters more if you are placing the dog bed indoor, so you want it to be odour-free and dirt-free. Waterproof beds would also be a great choice in this case or you could choose dog beds with removable and washable covers or cushions.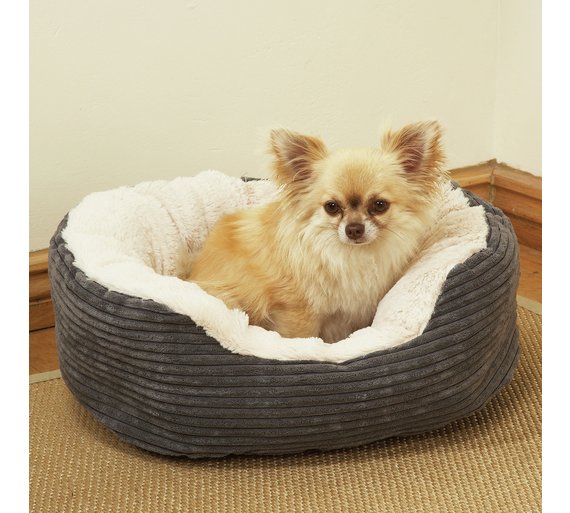 Plush material – well, this may not be suitable for every dog, but generally they love plush materials or microfiber. My dog's top preference would be those plushy blankets which he always gets shared a piece when I watch TV, no matter where I put my blanket, I would find my dog resting on it are stares at me most of the time. He ended up loving his new bed where I chose the ones with soft plushy fleece. These kinds of materials would make it the best to choose especially in winters.
At the ends, after your effort on making your decision out of a million different choices, paid your money and finally got it home ready to surprise your dog, you may still find your dog ignoring this new bed but still goes on your bed every chance they get hahahahah XDD